Tusker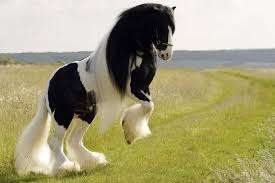 Story
The formation of the breed was influenced by gypsies, who, together with their pinto horses, first appeared on the British Isles in the 15th century. Here gypsy horses mixed with the local breed, which led to the appearance of the breed Irish or gypsy cob. Other British breeds also took part in the formation of the gypsy coba – Welsh ponies of all types, Dale, Fell, Highland, Kledesdal and Shire.
Until the mid-20th century, the tinker was not recognized as a separate breed. The systematic breeding of tinkers began only after the Second World War. In 1996, the Irish Cob Society was founded, which began the registration of tinkers. The Irish Cob Association has registered the first official founder of the breed, Cushti Bok stallion. Today in the world there are several pedigree books of gypsy cobs.
Breed characteristics
Gypsy draft horses are of medium height, wide body. The horse's head is massive and rough, has a beard and a humpback profile. This breed has a very thick mane, bangs and tail. The croup of a horse is powerful and prominent, the back is straight and short, the neck is strong and short, and the shoulders are powerful. The legs are strong and strong. The hooves are very strong, very round – the thick friezes on the hooves begin from the hock and carpal joints and cover almost the entire hoof.
The color of the breed is characterized by three types of pies: overo, tobiano and mixed (tover). On white areas of the body, tinker skin is usually pink. Horses are black, roan and black with white markings.
Irish kobes have large differences in size and weight. Growth at the withers ranges from 135 to 160 cm, and weight from 240 to 700 kg.
Gypsy harness is a universal horse suitable for a novice rider. The horses are phlegmatic and calm. It can equally well be used under saddle and harness. The horses of the breed are distinguished by very comfortable and soft gait. A negative feature of the breed is fatigue at gallop.
Gypsy cob mares can be used as a nurse for foals of thoroughbred horse breed.