American curly horse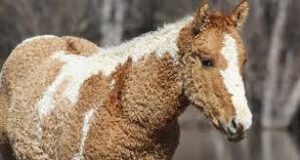 Folk selection
Enterprising farmers decided to cross caught mustangs with their own horses. Soon this initiative was supported by their neighbors. So in the selection process was attended not only the horse Morgan, a breed popular in those days, but even purebred Arabian horses.
Officially, the new breed was registered in 1971 under the name American Bashkir Curly Horse (American Curly Bashkir).
Currently, it allows many varieties. Only the presence of curly wavy hair is common.
American Curly Horse Photo
It has been documented that similar horses were among the Sioux and Crow Indians at the beginning of the 19th century. Presumably, they came to them from Russian settlers who allegedly brought Transbaikal curly horses (Bashkirs) to the American continent.
However, whether they have any kindred relationship with the bred breed, no one has been able to establish reliably so far. Most experts are of the opinion that the appearance of such animals on the American continent is due to an accidental mutation.
Hardy horses
Curly horses aroused particular interest in 1951. Then the winter in the USA turned out to be very cold and in the Nevada mountains the temperature dropped to -40 ° C.
In such a fierce cold, the owners of wavy wool did not complain at all of the weather conditions and even managed to get pasture, raking icy snow with powerful hooves.
In 2013, according to estimates by the French Cheval magazine, there were about 4,600 purebred American Bashkirs in the world. The average price for an adult pet is now about 9,000 euros.
Pair of American Curly Horses
American curly horses are distinguished by a noble disposition, efficiency and touching affection for its owner. They are hardy and unpretentious to the conditions of detention. Their coat does not have a specific horse aroma and smells more like sheep.
Horses molt evenly and acquire new coat by winter.